New Taipei Metro Corporation opened the Danhai LRT Lanhai Line (淡海輕軌藍海線) on Sunday, November 15, 2020, which has been under construction in the Tamsui district of New Taipei City in northern Taiwan.
The section opened this time is the first section from the newly established Tamsui Fisherman's Walf Station to Hamahai Shalong Station, which connects to the existing line – Lushan Line (綠山線). The station names are as follows (all in New Taipei City).
Tamsui Fisherman's Wharf Station (V26: 淡水漁人碼頭)
Shalun Station (V27: 沙崙)
Taipei University of Marine Technology Station (V28: 台北海洋大學)
Binhai Shalun Station (V09: 濱海沙崙)… existing station, connecting to Lushan Line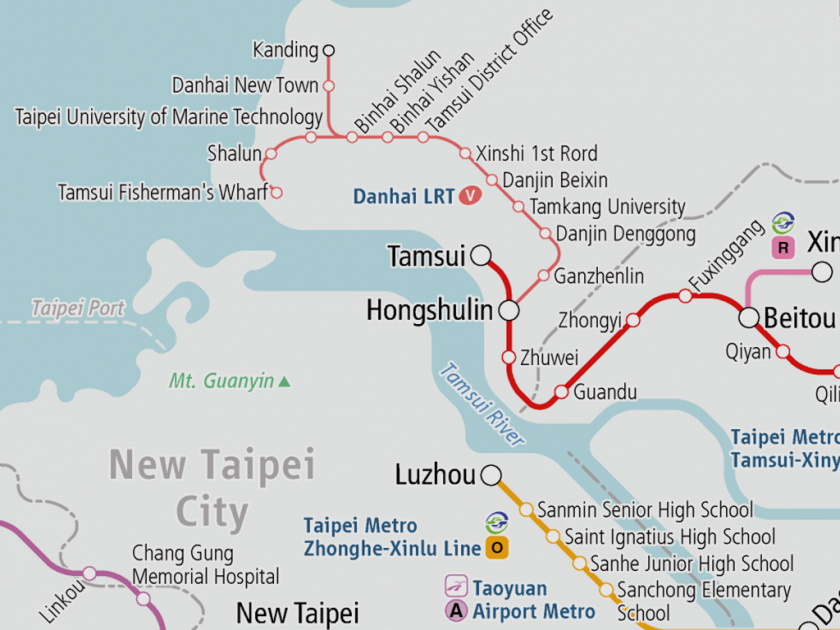 Trains on the Lanhai Line run every 12 to 15 minutes and all run directly to the Lushan Line. At Hongshulin Station (V01: Hongshulin, New Taipei City), people can transfer to the Taipei Metro Tamsui-Xinyi Line to access Taipei downtown.
Near Tamsui Fisherman's Wharf Station, there is a complex with the same name, where people can enjoy shopping and dining. It is a tourism facility that has a reputation for having beautiful open sea views with cruise ships arriving and departing, but until now it was necessary to transfer to local buses. The opening of the Lanhai Line will make it easier to reach, and it will become popular as a new sightseeing route.