The London Tube rolling stock manufactured in 1938 worked out its final run on the Island Line, Isle of Wight in southeastern England on January 3, 2021(Sunday), marking a period of 82 years of active life.
The Class 483 fleets, which had been operated on the Island Line, was originally manufactured as a tube vehicle for the London Underground and worked on the Northern Line as the front line of commuting until the late 1980s. The first fleet arrived on the Isle of Wight in 1989, and since then its have traveled 13.7km between Ryde Pier Head Station and Shanklin Station on the Island Line, and has been popular with tourists as a symbol of Wight.
https://twitter.com/SW_Help/status/1346048730668040192
By the time retiring, it was already the oldest railroad car in Britain, and the last run was in the spotlight. The highest alert level 4 (Tier 4) for COVID-19 was laid in the southeastern part of England, including the Isle of Wight, and it was an unfortunate timing in the middle of a stay-at-home order. The South Western Railroad, which operates, tweeted on New Year's Eve soliciting memories or photos of the fleets, and enthusiastic railroad fans responded by regretting remote farewell.
https://twitter.com/SW_Help/status/1344608602972164097
Due to the large-scale upgrade work on the Island Line, all trains will be suspended from January 4 (Monday) to March 31 (Wednesday), and alternative transportation by bus will be carried out. From April, all fleets will be replaced with the new Class 484. This fleets will also be transferred from the London Underground, but will be completely refurbished by the railway vehicle manufacturer Vivarail. The interior is equipped with the latest equipment such as a stop station display, free Wi-Fi, a wheelchair space, and a USB charging terminal for each seat.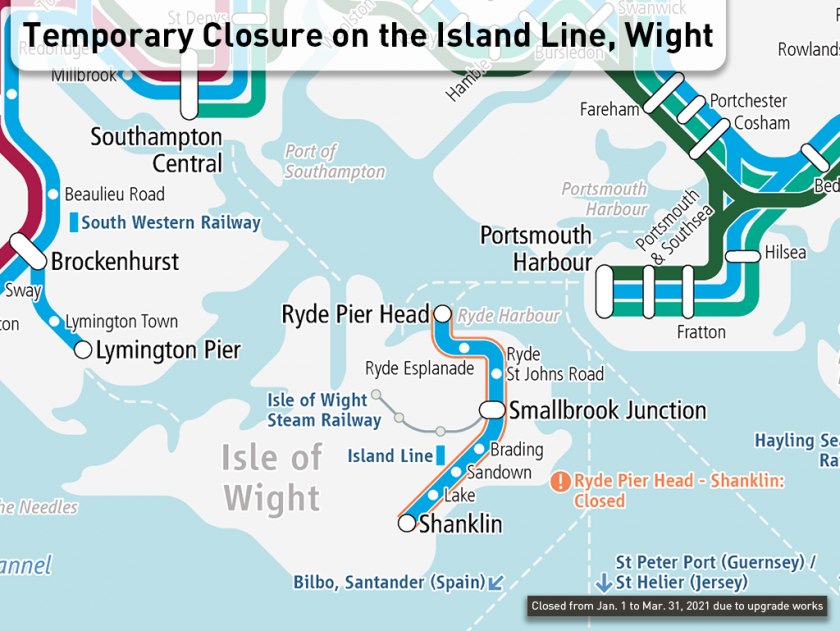 In addition, by installing a new passing loop at Brading Station, the all line will be operated every 30 minutes from May, improving the connection with the ferry "Wightlink" at Ryde Pier Head Station. With the introduction of the class 484 fleets, the accessible improvement work will be carried out on the platform of each station, so the nostalgic Island line will be reborn as a modern railway that is easy for anyone to use.