Asa Seaside Railway will finish the train service on the Asa-to Line (between Kaifu Station and Kannoura Station), which will be replaced with a DMV (Dual Mode Vehicle), on November 30, 2020 (Monday).
The Asa-to Line, which opened in 1992 as part of the line that was being constructed as a local line of the Japanese National Railways, will be replaced by the world's first transportation system DMV that can run both railroads and roads in 2021. As a result, 2 train vehicles will reture – the diesel vehicle ASA-100 "Shiokaze", which has been active for about 29 years since its opening, and the ASA-300 "Takachiho", which has been transferred from the abolished Takachiho Railway.
Asa Seaside Railway has held various events to commemorate the retirement of trains in this year. The final train of both direction on November 30 (Monday), will be available only to those who have purchased a limited ticket in advance to prevent the spread of COVID-19.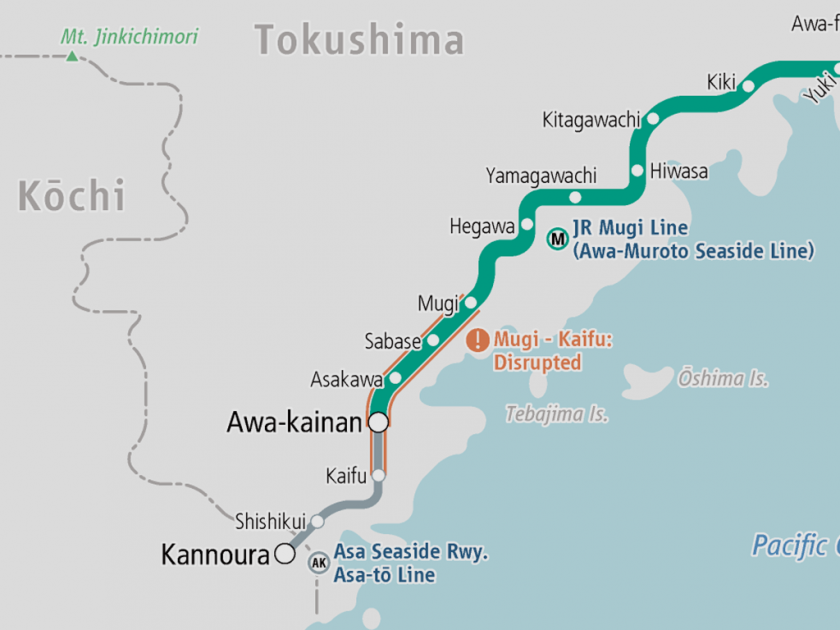 From December 1, 2020 (Tuesday) to March 2021, a substitute bus for the Asa Seaside Railway will operate 9 round trips between Awa-Kainan Station and Kannoura Station. For the JR Mugi Line, which is also suspended between Mugi Station and Awa-Kainan Station in preparation for the introduction of DMV, a substitute bus will operate in the same section until January 31, 2021 (Sunday). The substitute buses of both companies should be change at Awa-Kainan Station. The fare between Awa-Kainan Station and Kaifu Station is free during the substitute transportation.
In addition, due to the time change by replacing with buses, it will be changed that the connection with the bus for Cape Muroto (by Kochi Tobu Kotsu) at Kannoura Station. In particular, the final connection from Tokushima to Cape Muroto and Kochi will be two hours earlier, so Asa Seaside Railway is guiding people that the counterclockwise route (Kochi / Cape Muroto → Kannoura / Tokushima) will be more suitable for sightseeing.