BTS Group Holdings opened 2 their routes at the same time 13:00 on December 16, 2020 (Wednesday), which are the northern extension section of the "BTS Skytrain Sukhumvit Line" and the newly constructed "Gold Line".
BTS Sukhumvit Line landed in Pathum Thani Province
The BTS Skytrain is a two-line elevated rail system that runs from central Bangkok to the suburbs. This time, the extension section of the Sukhumvit Line was opened from "Wat Phra Sri Mahatart Station (N17: วัดพระศรีมหาธาตุ)", which is the northern terminal station, to "Khu Khot Station (N24: คูคต)". There are 6 new stations along the way: "Phahon Yothin 59 (N18: พหลโยธิน 59)", "Sai Yud (N19: สายหยุด)", "Saphan Mai (N20: สะพานใหม่)", "Bhumibol Adulyadej Hospital (N21: โรงพยาบาลภูมิพลอดุลยเดช)", "Royal Thai Air Force Museum (N22: พิพิธภัณฑ์กองทัพอากาศ)" and "Yaek Kor Por Aor (N23: แยก คปอ)".
The trains run on the new opening section from 6:00 to 24:00, every about 5 minutes during rush hours and about 6 minutes during the day. Fares are free for the time being north of Mo Chit Station (N8: หมอชิต).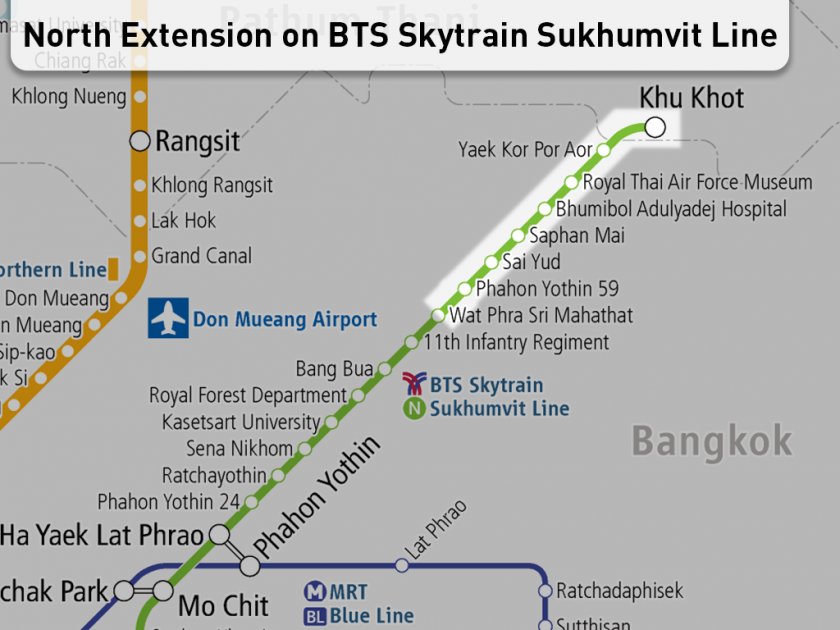 The BTS Sukhumvit Line became a route through the 3 provinces with 47 stations, running from Khu Khot Station in Pathum Thani Province to Kheha (E23: เคหะฯ) Station in Samut Prakan Province via central Bangkok. In December 1999, 17 stations between Mo Chit Station and On Nut Station (E9: อ่อนนุช) were newly opened, and while repeatedly extending east and north, the line was extended to about three times the length in 21 years.
https://twitter.com/BTS_SkyTrain/status/1339030127674454016
Gold Line born from a shopping complex
On the other hand, the Gold Line is a new people mover system newly constructed in the Khlong San district of Bangkok on the west bank of the Chao Phraya River. The driverless trains was manufactured by CRRC-PBTS (a joint venture between China's CRRC and the Bombardier Group of Canada) in Anhui Province, China.
The opening section is from "Krung Thon Buri Station (G1: กรุงธนบุรี)", which connects to the BTS Skytrain Silom Line, to "Charoen Nakhon Station (G2: เจริญนคร)" and "Khlong San Station (G3: คลองสาน)". From 6:00 to 24:00, it operates every 6 minutes during rush hours and 6 to 8 minutes during the day.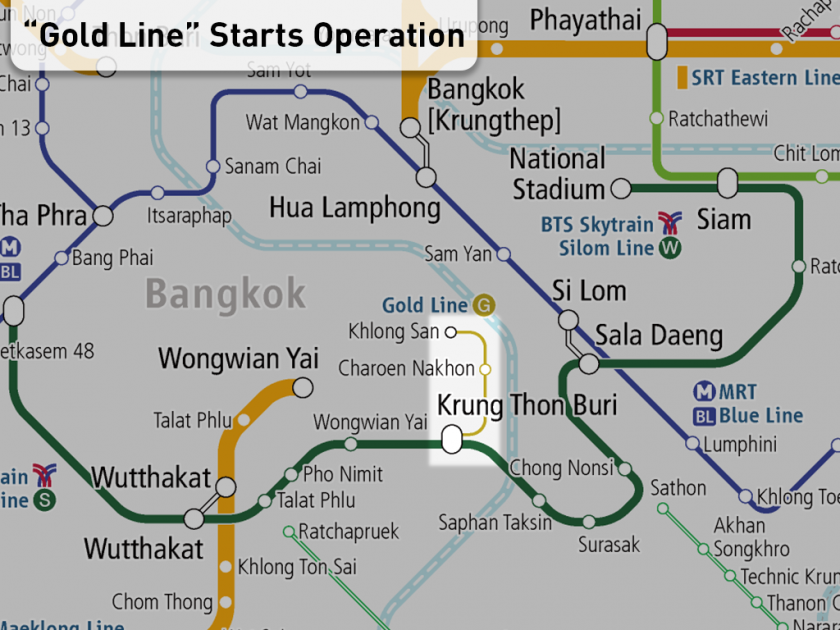 Charun Nakhon Station is connected to the large shopping complex "ICONSIAM (ไอคอนสยาม)" including the Japanese-owned department store "Siam Takashimaya". You can reach the pier of the Chao Phraya River Express Boat through the building.
By the way, ICONSIAM is operated by Siam Piwat Co. Ltd which is known for "Siam Center" and "Siam Paragon" in central Bangkok. For the purpose of improving the access of the facility, Piwat is greatly involved in the Gold Line everything from the idea project to the burden of construction costs.