JR East Akita Branch Office will release a specially planned ticket "Akita Holiday Pass" (あきたホリデーパス) that allows unlimited rides on railways in Akita Prefecture at a reasonable price.
You can get on and off the local trains (including rapid service) of the JR line, the Akita Nairiku Jukan Railway Akita-nairiku Line, and the Yuri Kogen Railway Chokai-sanroku Line in the valid area for one day. If you purchase a limited express ticket, express ticket, or reservation seat ticket additionaly, you can also ride limited express trains (including the Akita Shinkansen), express trains ("Moriyoshi" on Akita-nairiku Line), and rapid service "Resort Shirakami" and so on.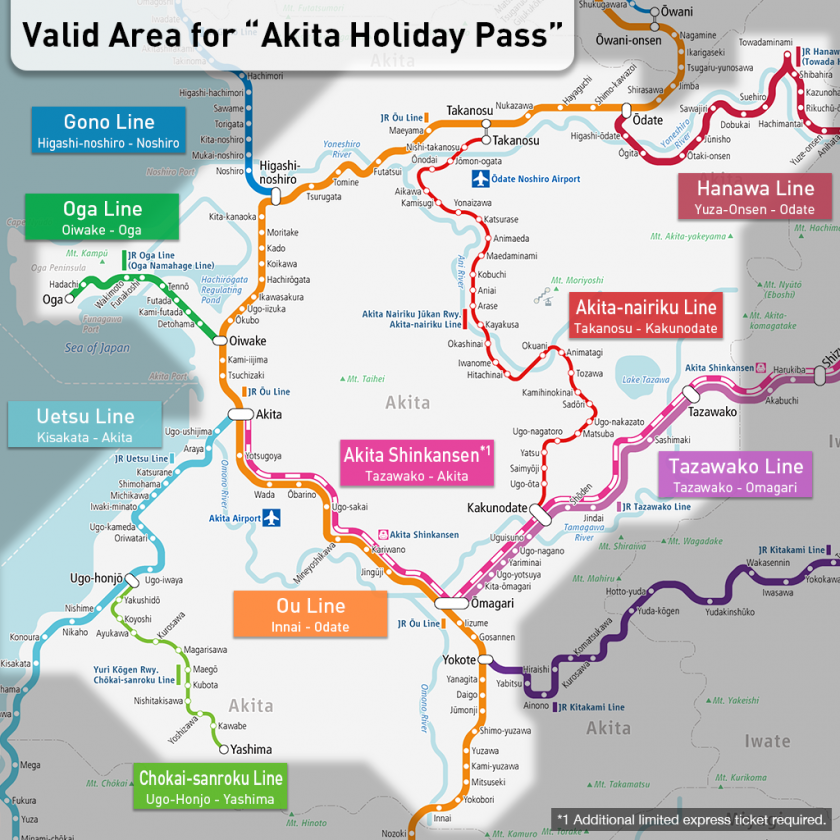 The price is 2,440 yen for adults and 1,220 yen for children. You can buy it at ticketing counter or reservation ticket vending machines in the valid area, and major travel agencies from Saturday, November 28, 2020 to Sunday, February 28, 2021.
The valid period is Saturday, Sunday and holidays from Saturday, December 5, 2020 to Sunday, February 28, 2021. In addition, you can use every day from Saturday, December 19 to Monday (national holiday), January 11. This year, the usage period is set longer than usual.
In addition, if you show it at "NewDays" or "NewDays KIOSK" in the valid area on the day you use the ticket, you will get a 5% discount on the purchase price (for purchases with a total price of 4,500 yen or less including tax / some exclusions).