In order to prevent the spread of COVID-19, Alpico Kotsu (アルピコ交通) is increasing the number of operation by chartered bus on the Kamikochi railway line (上高地線).
It will be implemented for 19 days on weekdays from December 1 (Tuesday) to 25 (Friday), 2020, as a measure to prevent crowding in the train during times when it is used by a lot of students. Extra chartered buses will be set between Matsumoto Station (松本) and Kitanii-Matsumoto-Daigakumae Station (北新・松本大学前), with 4 times departing from Matsumoto Station in the morning hours and 4 bound for Matsumoto Station in the evening hours.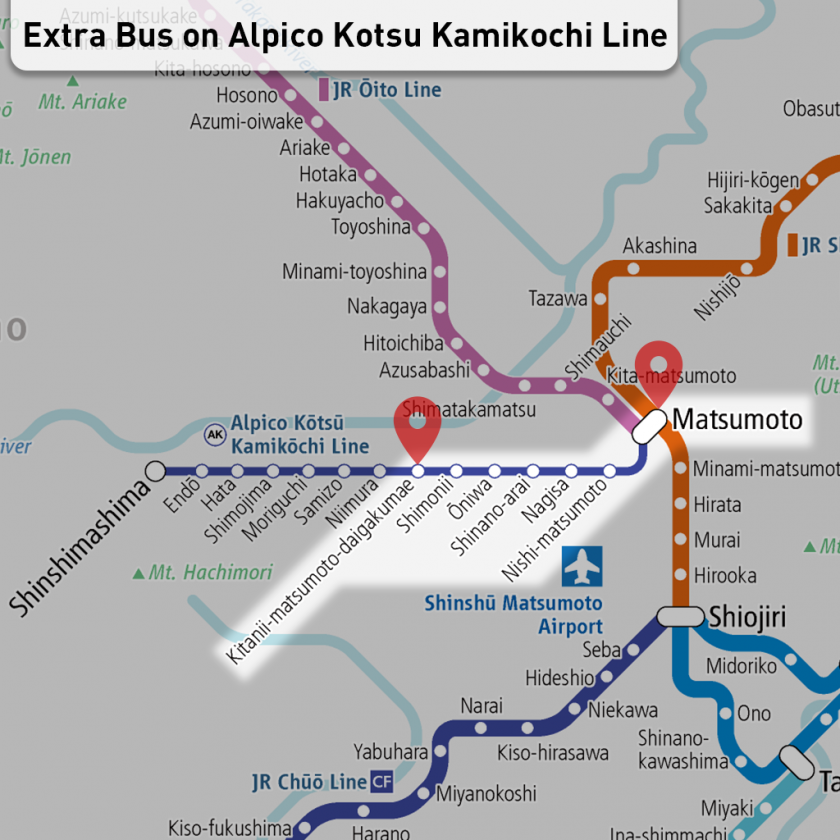 The extra bus operate without stopping on the way, and it takes about 20 minutes between the two stations (11 minutes by train). Those who have a commuter pass, coupon ticket, etc. can board. People cannot board in cash, so they need to purchase a ticket at the station in advance. Each vehicle is limited to 40 people on a first-come, first-served basis and cannot be boarded when the capacity is reached.
The bus stops at the Matsumoto Station Alps Exit (West Exit) and at the temporary pole on the north side of Forest Hall on the Matsumoto University campus.