Keikyu Railway announced the all-night operation from New Year's Eve on December 31, 2020 (Thursday) to New Year's Day on January 1, 2021 (Friday / holiday), and the special timetable for the New Year holidays.
The section where the operation is carried out all night on New Year's Eve is between Sengakuji Station and Yokohama Station on the Keikyu Main Line and the Daishi Line (local train only). In the section south of Yokohama Station, it has been held every year that the last trains moved behind on New Year's Eve or the first trains moved ahead on New Year's Day, but it will not be held this year. Keikyu says that depending on the spread of COVID-19 in the future, overnight operation may be suspended or the operation section may be changed.
In the early morning of New Year's Day, a limited express train departing from Shinagawa Station (5:00) bound for Misakiguchi will be added. In the usual year, 2 trains were set which depart from Asakusabashi on the Toei Asakusa Line Station / Shinagawa Station, and the special head mark of the "Hatsuhi-go (meaning first sunrise)" was posted, but only the one without head mark is remained in 2021.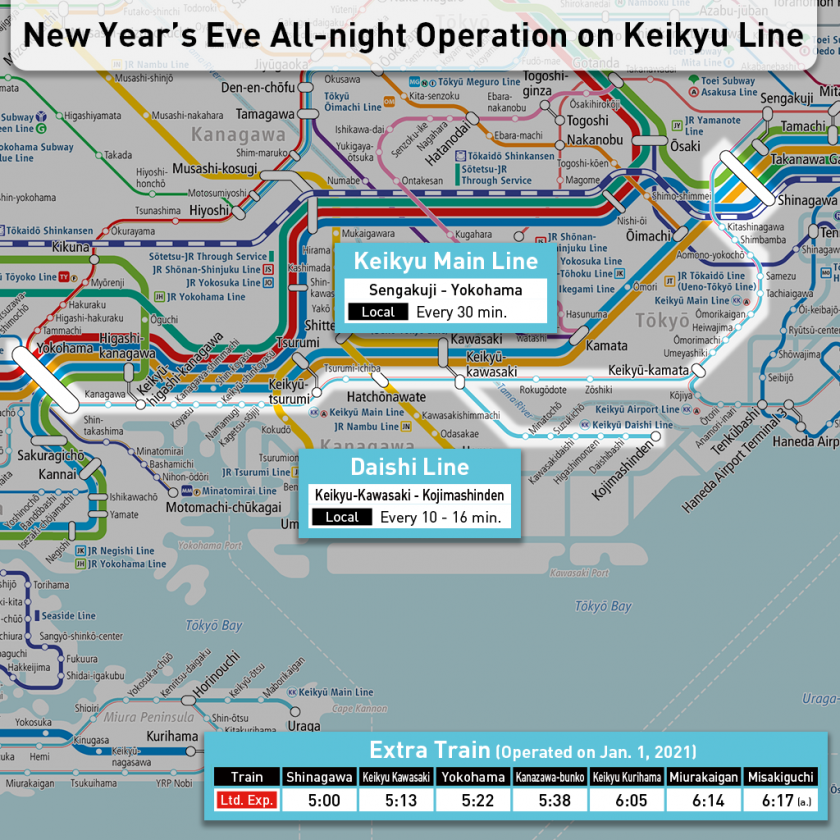 From December 30 (Wednesday) to January 3 (Sunday) during the year-end and New Year holidays, the trains will be operated based on the timetable for Saturdays and holidays, but the seat reservation service "Wing Seat" will be suspended during this period. In addition, from January 1 (Friday / holiday) to January 3 (Sunday), Keikyu says that some trains in the morning will be operated in 12-car trains to prevent the spread of COVID-19.
For the convenience of visiting Kawasaki Daishi Temple in the New Year, the "special timetable" will be carried out on the Daishi Line to increase the number of trains, and it will be operated every 6 minutes during the day. The period of operation on the "special timetable" is from January 1 (Friday / holiday) to January 11 (Monday / holiday) and January 16 (Saturday) to January 17 (Sunday).