The Fukuoka City Transportation Bureau installed ticket gates that support both traffic IC cards and credit cards at some stations on the Fukuoka City Subway, and conducts a demonstration experiment of using the contactless payments of credit cards.
Get on and off with your credit card
Fukuoka City and the Fukuoka Directive Council (FDC) are soliciting demonstration experiments from all over the country aiming to solve social issues by utilizing advanced technology, and are working to support the demonstration of excellent projects. This adopted project was proposed by Sumitomo Mitsui Card (Headquarters: Koto City, Tokyo), and the following companies are jointly participating – Visa Worldwide Japan (Headquarters: Chiyoda City, Tokyo), Nippon Signal (Headquarters: Chiyoda City, Tokyo), QUADRAC (Headquarters: Minato City, Tokyo).
The demonstration period will start on May 31, 2022 (Tue), and will be conducted between Tenjin and Fukuoka Airport on the Airport Line and between Nakasu-Kawabata and Gofukumachi on the Hakozaki Line. People can board the subway simply by holding their credit card with "Visa Contactless Payments" over the dedicated reading device when entering or exiting the ticket gate. No prior registration, purchase, or charge is required, and the users can check the usage history on the "Q-move" website provided by QUADRAC. It is not possible to ride using contactless payments across sections other than the target station (see the figure below for details such as the transit map of available sections).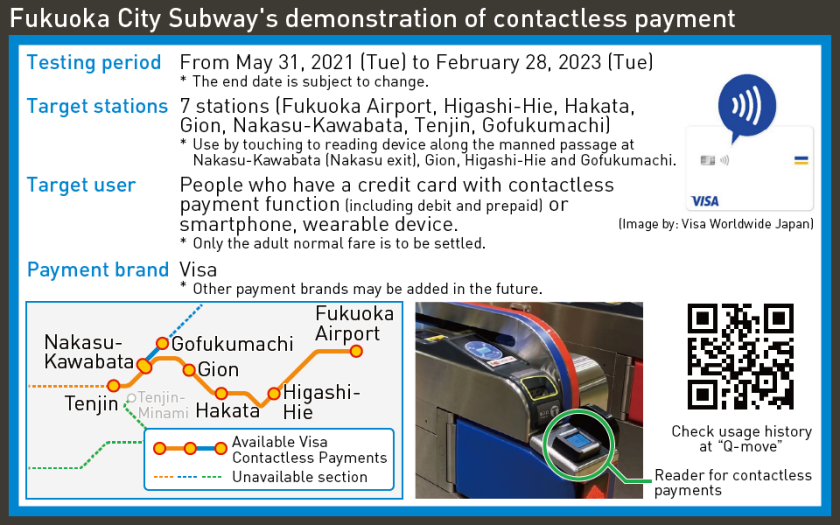 The integrated ticket gates that accept both traffic IC cards and credit payments are products developed by Nippon Signal, and this time the Fukuoka City Subway was the first case in Japan to introduce it.