WILLER EXPRESS (Headquarters: Koto City, Tokyo) and Tokyu Bus (Headquarters: Meguro City, Tokyo) will start low-priced direct bus routes (LCB: Low-Cost Bus) connecting Ikebukuro / Shibuya in central Tokyo and Narita Airport on August 1, 2022 (Mon).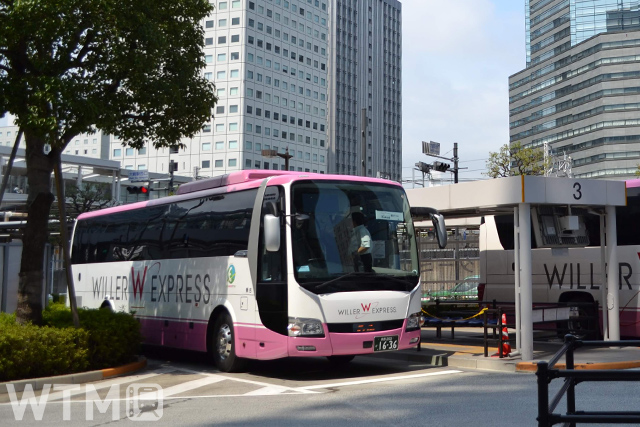 WILLER expands to Ikebukuro
The "Narita Shuttle Ikebukuro route", which connects Ikebukuro and Narita Airport in as little as 80 minutes, is a new route by joint operation with WILLER, Keisei Bus (Headquarters: Ichikawa City, Chiba), Kokusai Kogyo (Headquarters: Chuo City, Tokyo) and Limousine Passenger Service (Headquarters: Chuo City, Tokyo). (Chuo-ku, Tokyo). The bus stop of Ikebukuro is the platform 7 at the west exit of the station, and 18 daily services (8 to Narita Airport and 10 from Narita Airport) is operated from early morning to night. The regular fare for adults is 1,900 yen, and you can save 1,500 yen by pre-paying with the "Early bird plan", which has a limited number of seats that can be reserved up to 24 hours before departure.
[JR Pass] JR East-South Hokkaido Pass | Save time and money exploring eastern Japan and Hokkaido (Ad by KKday)
WILLER will advance to the second access for Narita, following the "Narita Shuttle" between Osaki Station and Narita Airport / Shibayama Town (currently suspended), which started operation in October 2016. Bookings are accepted from July 1 (Fri), and people can make online reservations and payments from the "WILLER TRAVEL" site up to 20 minutes before the departure time. If they cannot board the reserved bus due to delayed arrival of the aircraft or other, the "Designation Reservation Service" that is automatically canceled is applied, and there is no cancellation fee, so they can use it with confidence (See chart below for details such as timetables and fares).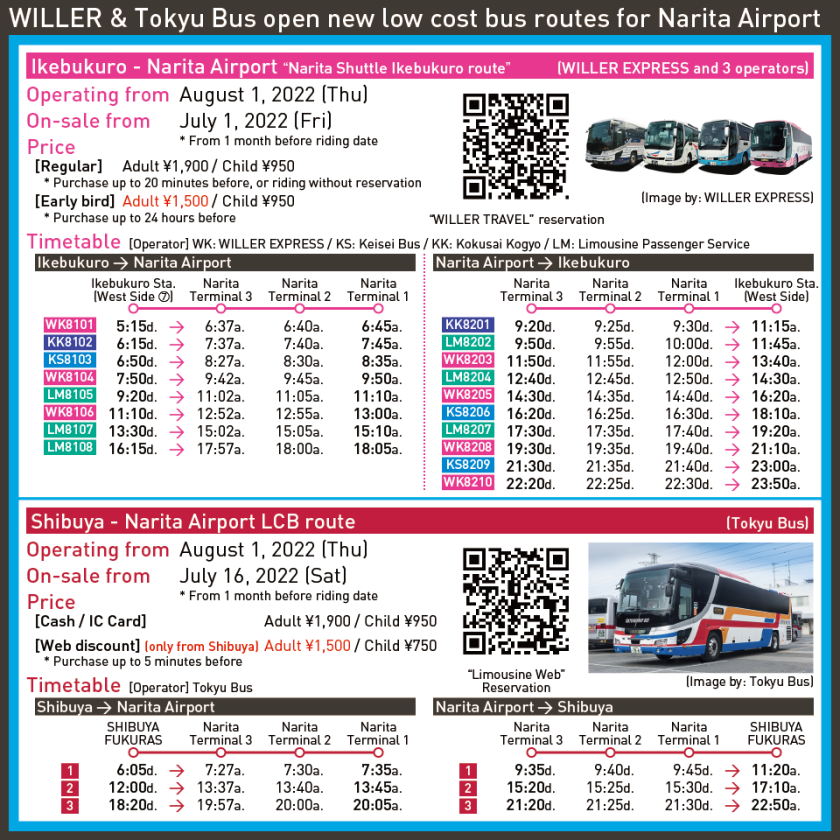 Conventional limousine buses still closed
The new LCB, which runs directly between Shibuya and Narita Airport in a minimum of 90 minutes, will operate 3 round trips, 6 services daily by only Tokyu Bus. The regular fare for adults is 1,900 yen, but buses departing from Shibuya will be discounted to 1,500 yen if people purchase at least 5 minutes before departure on the reservation site "Limousine Web" operated by Airport Transport Service (Headquarters: Chuo City, Tokyo). Buses reservations are scheduled to start on July 16 (Sat).
[Japan] Shirai Falls, Kumobaike Pond, Old Karuizawa Ginza Street, Karuizawa Prince Shopping Plaza (Outlet mall) | Shinjuku departure (Ad by KKday)
The route departs from the bus terminal on the 1st floor of the complex facility "SSHIBUYA FUKURAS" that opened in December 2019, and is about a 1-minute walk from the west exit of Shibuya Station, making it convenient to transfer to the train. The tourist support facility "shibuya-san", which provides services such as tourist information around Shibuya and baggage storage, is adjacent to the platform, and it seems to be an easy-to-use route for tourists including foreigners (See chart above for details such as timetables and fares).
The two routes will be opened as the first LCBs that directly connect the main terminals on the west side of the Yamanote Line and Narita Airport, and they are characterized by their affordability, which can be used at approximately half the fare of conventional bus routes (both are 3,200 yen).
On the other hand, due to the influence of COVID-19, the Narita Airport Limousine Bus of Airport Transport Service has been suspended on many routes, and no plans of the operation resuming have been announced so far for each route of "Ikebukuro, Mejiro, Korakuen" and "Futakotamagawa, Shibuya". After the operation of conventional routes via major hotels is restored, it will be separated from LCB, which sells low prices by narrowing down the departure and arrival points in front of the station, and it is unclear whether this will be widely recognized by users.