Keikyu Railway announced that the timetable will be revised in the spring of 2021 and move the last train time ahead on weekdays by about 15 to 30 minutes on all Keikyu Lines except the Daishi line.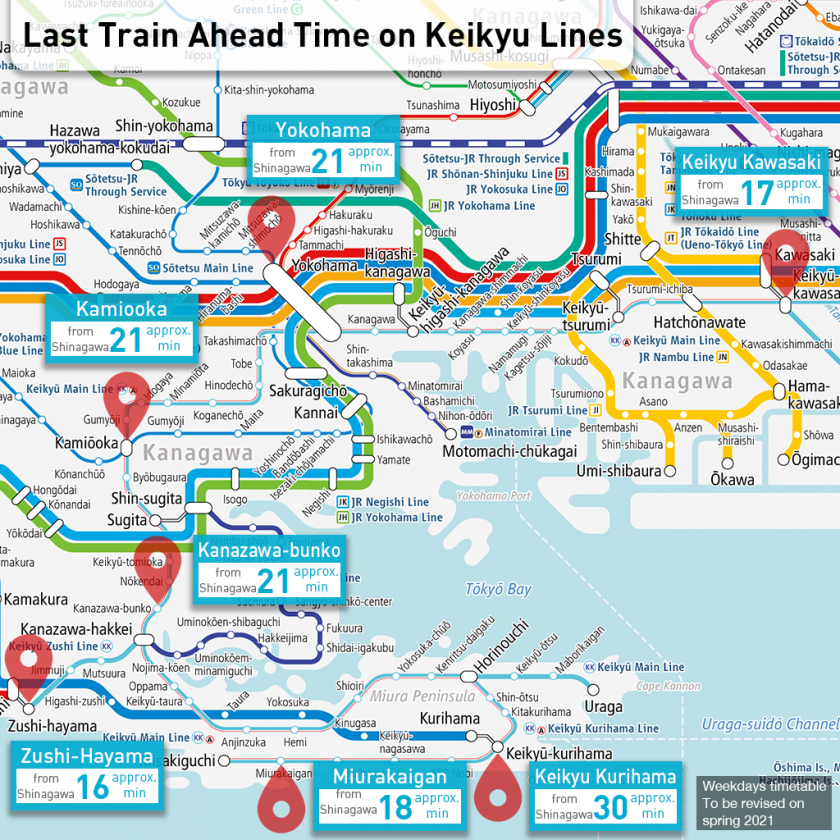 Keikyu showed the background that it is increasing the amount of work to maintain safe and stable transportation such as installing platform doors and making it accessible, even though the labor force is reducing. They says the working hours will be expanded by moving the last train ahead, and the work environment will be expected for improved. They also explained that the passengers of late-night hours has decreased significantly due to the epidemic of COVID-19.
The last train time for each destination on weekdays will be changed as follows (current → revised).
for Misakiguchi
at Shinagawa 22:50→22:50…Same as the current
at Yokohama 23:13→23:13…Same as the current
for Miurakaigan
at Shinagawa 23:32→23:14…Advance by about 18 minutes
at Yokohama 23:54→23:37…Advance by about 17 minutes
for Keiku Kurihama
at Shinagawa 24:02→23:32…Advance by about 30 minutes
at Yokohama 24:24→23:54…Advance by about 30 minutes
for Kanazawa-bunko
at Shinagawa 24:23→24:02…Advance by about 21 minutes
at Yokohama 24:45→24:25…Advance by about 20 minutes
In addition, to prevent congestion before the last train, one limited express (from Sengakuji to Kanagawa-shinmachi) and one airport express (from Keikyu Kamata to Kanagawa-shinmachi) will be run around 24:00.
There is no change in the last train on Saturdays and holidays. The detailed time will be announced around January 2021.