Takamatsu Kotohira Electric Railroad (Kotoden, ことでん) opened a new station "Fuseishi Station" (K04A: 伏石, Takamatsu City, Kagawa) on November 28 (Saturday), 2020, which was established between Sanjo Station and Ota Station on the Kotohira Line (琴平線).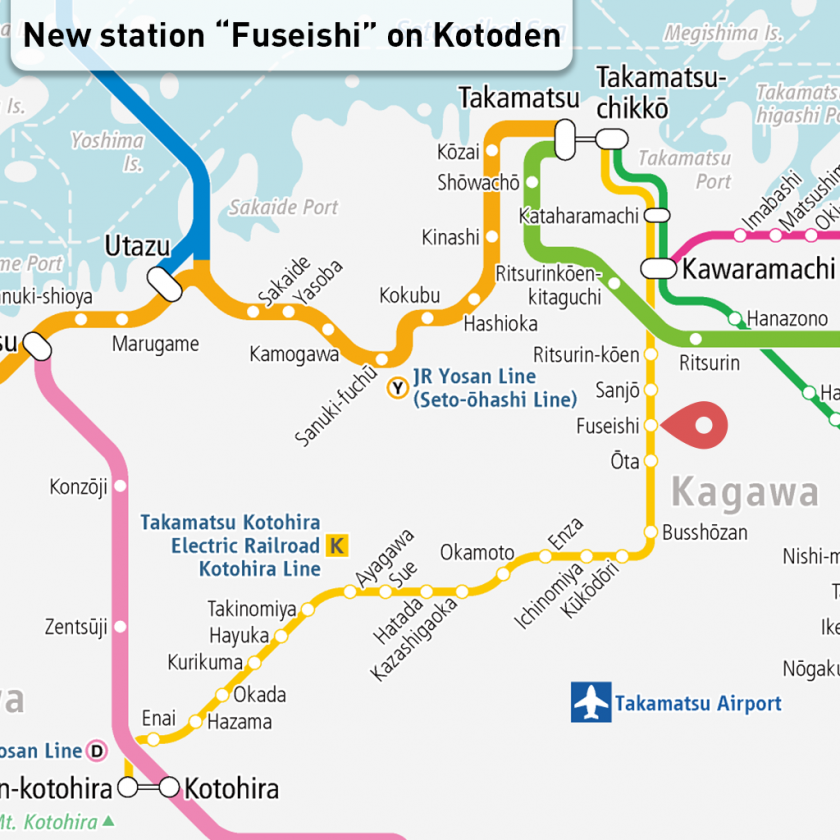 Fuseishi Station is built on the elevated intersection of the Kotohira Line and Takamatsu-higashi Bypass, and is located about 8 minutes to Kawaramachi Station and about 12 minutes to Takamatsu-chikko Station. The time required for the entire Kotohira Line has hardly changed, as the surrounding sections have been double-tracked in line with the construction of the new station.
Fuseishi Station has entrances to the north and south across the Higashi Bypass, but for the time being, only the north entrance can be used. A bicycle parking lot is set up at the north entrance. The station square (rotary), which are maintained on the east side of the north entrance, and the south entrance are still under construction and will not be available until completion. According to the concept of the Takamatsu City Transportation Policy Division, it is planned to reorganize the network of local buses and highway buses and utilize Fuseishi Station as a connecting base for railway and them.
On the same day, Kotoden revised the timetable on all train lines (Kotohira, Nagao and Shido Lines). In addition to changing the departure time of the last train, the number of trains during the daytime hours, which had been reduced due to COVID-19 on the Kotohira Line, has been returned to the previous level. The trains run every 15 minutes between Takamatsu-chikko Station and Ichinomiya Station.