JR Kyushu has decided to operate the popular special train "SL Kimetsu no Yaiba"for 5 days in December 2020, that have been operated in November.
"SL Kimetsu no Yaiba" is a specially designed sightseeing train realized in collaboration with the TV animation "Kimetsu no Yaiba (鬼滅の刃, Demon Slayer)" and JR Kyushu. To commemorate the release of the movie "Kimetsu no Yaiba the Movie: Mugen Train (Demon Slayer: Infinity Train)", the "Infinite (無限)" head mark is attached to the number plate of the steam locomotive type "58654", which is active in the "SL Hitoyoshi".
It operated for 5 days in November 2020 and became a hot topic nationwide. With the end of the collaboration campaign period, "SL Kimetsu no Yaiba" will be the last to run with this additional operation.
The coaches, which is decorated in the image of the Taisho romance familiar from "SL Hitoyoshi," is fully equipped with facilities that you can enjoy even after riding, such as the observation lounge, buffet, and mini SL Museum. In the train, a limited number of original goods of the "Kimetsu no Yaiba" character will be sold.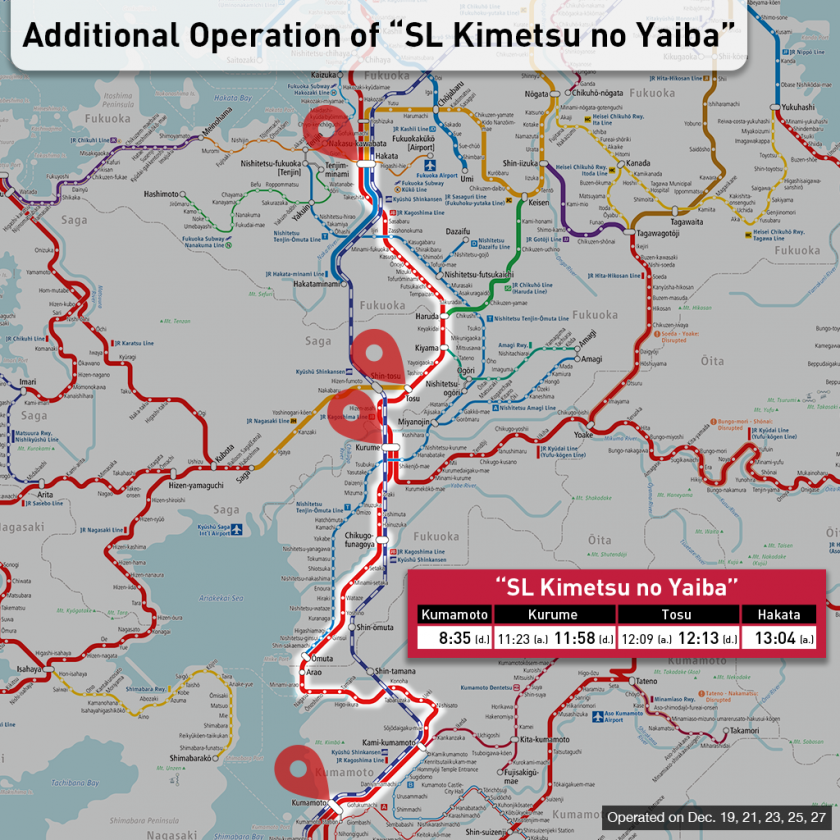 The additional operation will be held on December 19 (Sat), 21 (Mon), 23 (Wed), 25 (Fri), and 27 (Sun), 2020, for a total of 5 days, and it will run from Kumamoto Station (8:35) to Hakata Station (13:04). On the way, it will stop at Kurume Station and Tosu Station.
All seats of "SL Kimetsu no Yaiba" can be reserved, and a reservation seat ticket is required in addition to the fare ticket. Reservation tickets will be on sale at "JR Kyushu Internet Train Reservation" and major stations nationwide from 10:00 on December 14, 2020.