Ueda Electric Railway is planning various projects such as lighting up the Chikumagawa Bridge, which is being reconstructed, and counting down before the resume of operation on all lines scheduled for March 28, 2021 (Sunday).
On October 13, 2019, Typhoon No. 19 (East Japan Typhoon) flooded the Chikuma River, and various areas of Nagano Prefecture in the basin were hit by a great disaster. Ueda Electric Railway was also caused great damage, that the pier of the Chikumagawa Bridge was washed away, and a part of the bridge collapsed. Even now, the Bessho Line is disrupted between Ueda Station and Shiroshita Station, and bus substitute transportation is carried out in the same section.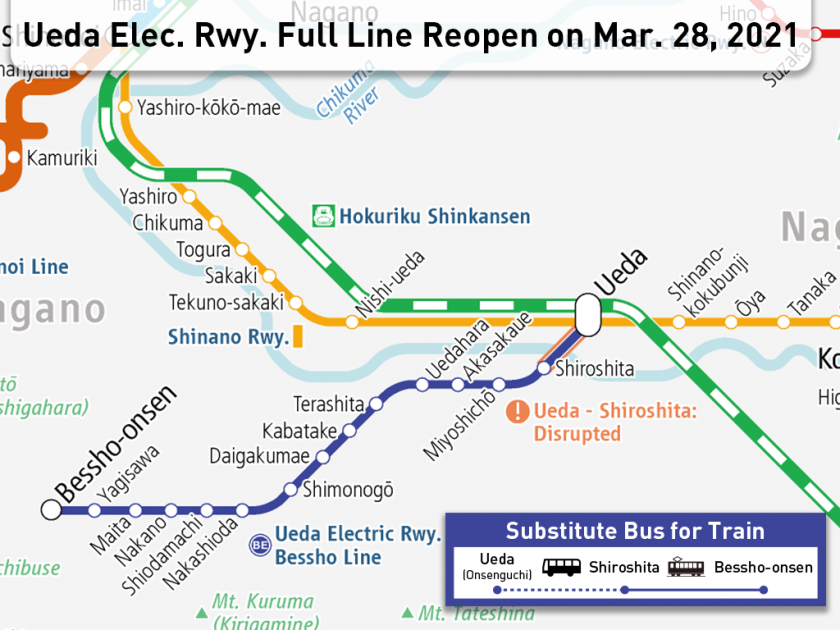 The bridge is undergoing restoration work with the aim of reopening the entire line on March 28, 2021, despite the interruption in the summer, which is the flood season of the Chikuma River. Prior to the reopening, the "Lighting-up Project" of the Chikumagawa Bridge has been implemented from December 18, 2020 (Friday) so that the "Red Iron Bridge", which is a symbol of the Bessho Line, will become more familiar. The lighting time is from 16:00 to 23:00 every day, and it is scheduled to be held until the end of January 2021.
In addition, the "Logo mark for reopenning Chikumagawa Bridge" has also been established. The design symbolizes the Chikuma River Bridge seen from the front of the train as if it were the red torii gate of a shrine, and the divergent lines express the momentum that the Bessho Line will continue forever. This logo will be appeared in various projects commemorating the opening of all lines, and it is also used in the "Bessho Line Reopening Countdown Project" that is being held on the Ueda Electric Railway official website and Instagram. This project has been updated daily since December 18th (Friday), 100 days before the opening of the all lines sending the number of days until recovery, and companies and organizations related to the restoration and people who are supporting the Bessho Line will be appeared.
View this post on Instagram
Ueda Electric Railway will not operate extra trains after the last train on New Year's Eve, December 31, 2020 (Thursday). During the year-end and New Year holidays from December 31 (Thursday) to January 3 (Sunday), the "New Year timetable" will be carried out, and some trains will be canceled during the morning hours. The trains will be canceled at 6:28, 7:11, 7:55 and 8:40 from Shimonogo Station and the substitute buses connecting to them / the substitute buses departing at 6:36, 7:20, 8:08 and 8:47 from Ueda Station Onsenguchi and trains connecting to them.