JR East will operate extra trains that goes directly between Nagano / Suwa areas in conjunction with the major festivals, mainly on Saturdays, Sundays, and holidays from April to June 2022.
At Zenkoji Temple (Nagano City), the "Zenkoji Gokaicho" will be held from April 3 (Sun) to June 29
(Wed), 2022. It is held every 7th year, and was originally scheduled to be held in the spring of 2021, but it was postponed for one year due to the influence of the COVID-19 infection. In addition, the festival period will be extended by one month to reduce the risk of spreading the infection.
The "Onbashira Festival" is held every 7th year in the Suwa area. It is a Shinto ritual rebuilding the treasure hall of Suwa Taisha Shrine (Chino City, Suwa City & Shimosuwa Town) and standing the "Onbashira", which are the pillars of big trees carried out from the mountain, at the four corners of the shrine. The powerful "Yamadashi" event, in which a large number of people tow a giant tree, was canceled in consideration of measures against infectious diseases, but "Satohiki" events will be held at each of Kamisha and Shimosha in May 2022.
The limited express "Shinshu" will be operated for a total of 13 days from April 23 (Sat) to June 12 (Sun), 2022 as extra trains connecting the Nagano and Suwa areas where the "Zenkoji Gokaicho" and "Onbashira Festival" will be held at the same time. increase. It makes two round trips a day between Chino and Nagano, and the E353 series 3-car train (all reserved seats) usually operated by the limited express "Azusa" will be used (see the table below for driving days and times). The limited express train that goes directly to both areas is the first time for about 6 years after the "Extra Limited Express Matsumoto / Suwa" that was operated from Nagano to Kamisuwa on August 6, 2016, in line with the summer festival "Nagano Binzuru".
In addition, the rapid servce trains "Resort View Suwako" will be operated between Nagano and Fujimi for a total of 6 days from April 16th (Sat) to June 19th (Sun), 2022. See table). A 2-car train of HB-E300 series with observation seats (all reserved seats) will be used, and people can move while enjoying the scenery of Lake Suwa, Mount Yatsugatake, and Fujimi Highland, in addition to Obasute overlooking Nagano City.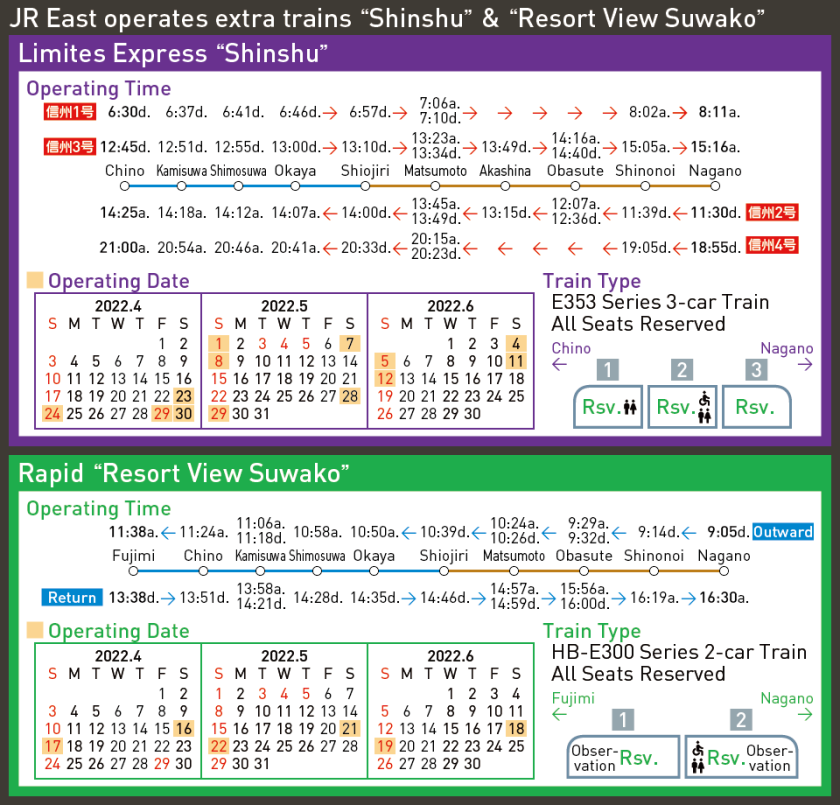 Reservation tickets will be sold from 10:00 am one month before the boarding date through the Internet reservation service "Ekinet".