JR East shifts the "Suigun Line Cycle Train" to an official service that can be used throughout the year from April 2022, which has undergone demonstration experiments.
In a part of the Suigun Line that straddles Ibaraki and Fukushima prefectures, the cycle train demonstration experiment was conducted from May 2021 that allows getting on the trains with bicycles as they are without being housed in a wheel bag. The feature is that people can get on the train with their bicycle and start cycling as soon as they get off, and if they enjoy the scenery and nature, they can move by train again. It has been used a lot so far, and it was confirmed that cyclists can spend it safely and comfortably on the train, and based on this result, it was decided to move to full operation.
After Saturday, April 2, 2022, it will be held on Saturdays whtiout deadline. Sundays, and holidays. The stations that can be boarded and disembarked as a cycle train are Kami-Sugaya, Hitachi-Omiya, Hitachi-Daigo, Iwaki-Ishikawa and Hitachi-Omiya. Iwaki-Ishikawa Station will be newly available, but Iwaki-Tanakura Station, which was available during the demonstration, will not be covered. Trains between Kami-Sugaya and Hitachi-Daigo can be used all day, but the range of the trains is limited between Kami-Sugaya and Hitachi-Daigo / between Kami-Sugaya and Hitachi-Ota (See the figure below for the area map and details).
If people bring their bicycle from/to a station other than the above, outside the section, or non-permitted trains, those will need to disassemble or fold it and put it in a wheel bag as before.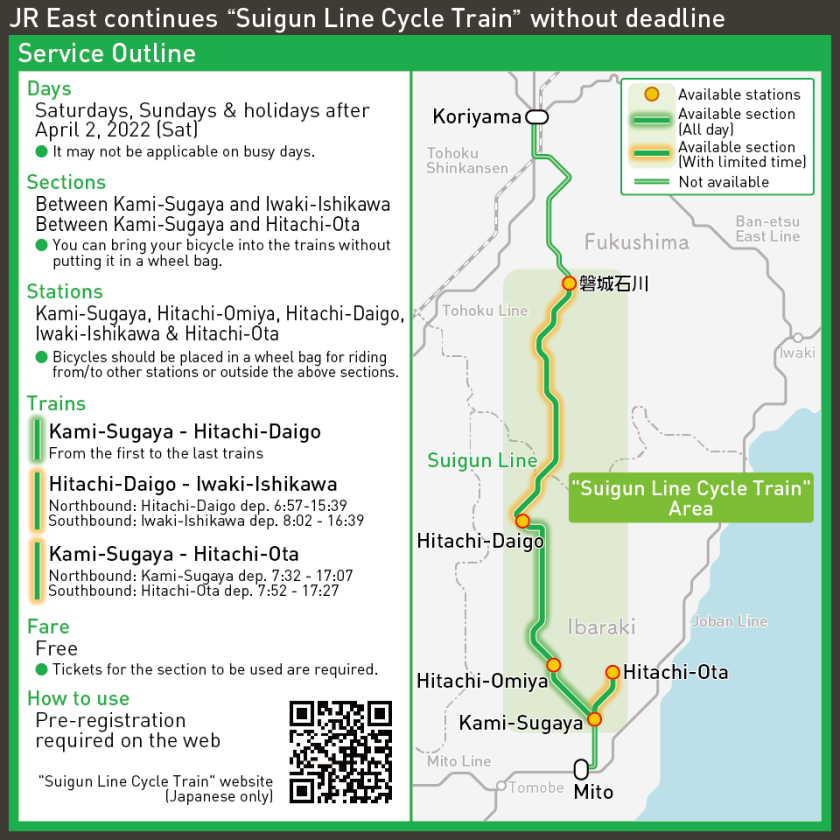 The usage fee for the "Suigun Line Cycle Train" is free (only with a train fare ticket), but people need to register for use on the website in advance. At the station, those can pass through the ticket gate by presenting the "Usage Registration Card" on the smartphone screen to the station staff.
At the start of official operation, a band rental service to fix the bicycle will start to prevent from tipping over in the train so that those can use the cycle train with peace of mind. In addition, bicycle wheel bags will be rented in case of trouble that they cannot use at the designated station or time of day due to a bicycle breakdown. These lending and returns are made at the above boarding / alighting stations, but the number of goods is limited.