Tobu Railway has decided on the nickname "SPACIA X" for the N100 series trains to be introduced as a new model of the limited express SPACIA, and announced that it will start operation on July 15, 2023 (Sat), one year later.
SPACIA's orthodox evolution
While inheriting the tradition and image of "SPACIA", which has been established as a synonym for transportation to the Nikko & Kinugawa area, it expresses that it has evolved orthodoxly as a higher quality flagship limited express. They exprain that the letter "X" has various roles expected of new rolling stocks such as travel eXperience, fellowship of culture and people (cross = X), unknown (X) possibility and so on. The nickname logo uses a typeface developed with the image of the traditional craft "Kanuma Kumiko," which was also used as a motif in the train exterior design.
[Tobu Railway] Japan Tobu Railway Nikko Pass (Pick-Up at Asakusa) | Visit Nikko's top tourist sites, including Kinugawa River (Ad by KKday)
The service section is between Asakusa and Tobu Nikko / Kinugawa Onsen on the Tobu Skytree, Nikko and Kinugawa lines, and a schedule will be set up that makes two to four round trips daily, mainly during times that are convenient for sightseeing. The limited express fee for SPACIA X will be applied to standard and premium seats, and when using special seats such as private rooms and lounge types, the seat charges added to the standard seat fee are required separately (See the chart below for details such as a route map, table of express fees).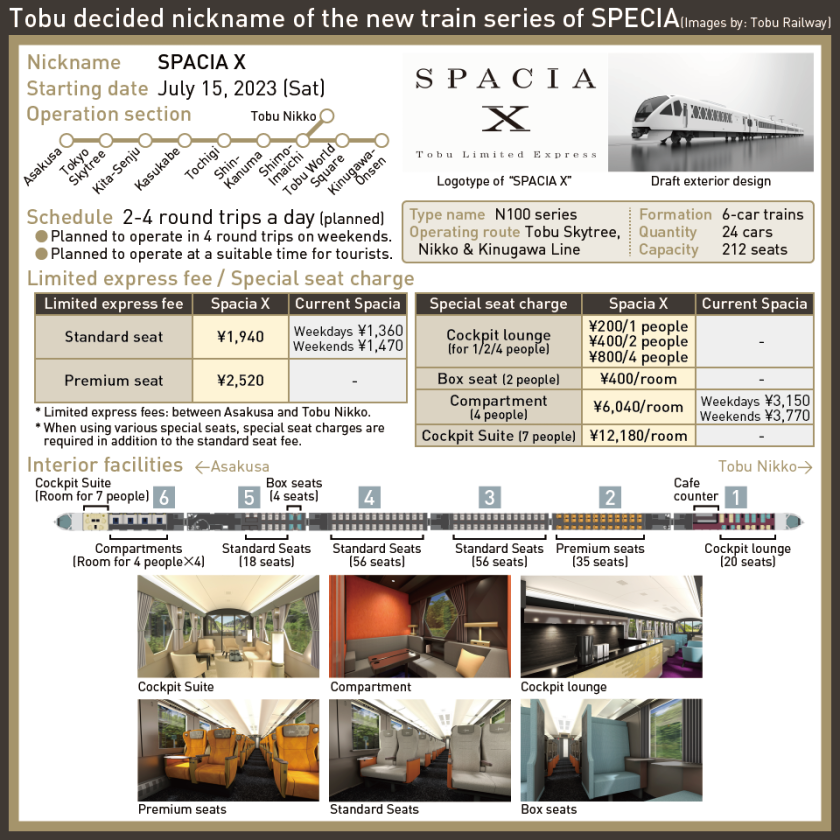 Tour products now on sale one year in advance
The business outline of the cafe counter installed in the car No.1 "Cockpit Lounge" has also been decided. Based on the concept of "NIKKO the CLASSIC – Nikko's classics are constantly evolving", they will continue to convey the charm of Nikko's "food" from an elegant and calm space. Four draft towers will be set up at the counter so that people can enjoy beer carefully selected from all over Japan, including the original craft beer of "Nikko Brewing" which is the signboard menu. In addition, the original craft coffee will be made in collaboration with the locally loved "Nikko Coffee", and a system will be built to utilize part of the sales for community development such as environmental conservation.
[JR Pass] Japan JR East Pass (Tohoku Area) E-Ticket | Explore all the major tourist spots in northeastern Japan with easy access to transportation (Ad by KKday)
Tobu Toptours (Headquarters: Sumida City, Tokyo), Club Tourism (Headquarters: Shinjuku City, Tokyo) and HIS (Headquarters: Minato City, Tokyo) are planning day or overnight trip products in the direction of Nikko, including the ride of SPACIA X. Taking advantage of the various seat variations of the new express trains, package tours that meet various travel scenes such as for one person, family, and luxury will be lined up in sequence. They will be on sale on the websites of each company from 15:00 on July 15, 2022 (Fri), which is one year before the starting date of operation.