Kintetsu started operation of the new sightseeing limited express "Aoniyoshi" between Osaka-Namba and Kyoto via Kintetsu-Nara on April 29, 2022 (Friday / Holiday).
The Series 12200 (a 4-car train) that has been running as a general-purpose express train was significantly remodeled for about 330 million yen, and they finished it as a sightseeing train wearing noble purple metallic paint. The Tenpei pattern with the motif of the treasure of Shosoin in the ancient city of Nara is used for the interior and exterior, creating a moving space where people can feel the history and culture. In addition to traveling for the purpose of getting on the train itself or sightseeing in Nara from all over Japan, it has appeared with an eye on the resumption of inbound tourism after the convergence of the COVID-19.
The name "Ayoyoshi" is a makurakotoba for Nara, which has many world heritage sites and national treasures. There are two types of spacious seats: "Twin Seats" for 2 people (cars 1, 3 and 4) and "Salon seats" for 3 to 4 people (car 2). The total number of seats (84 seats) is reduced to about one-third that of the train before the renewal. Car 2 have a service counter where people can find sweets and drinks related to Nara, including the special "Aoniyoshi Butter Sandwich" by the Sheraton Miyako Hotel Osaka, or the barrel craft beer by the Yamato Brewery . "Aoniyoshi" goods such as original Japanese handkerchiefs and key chains are also be on sale.
The operation day is 6 days a week except Thursday, but it will be operated every day during the peak season such as Golden Week. In the morning, the train connects directly from Osaka-Namba to Kyoto via Kintetsu-Nara, and in the evening, take the reverse route from Kyoto to Osaka-Namba without changing trains. In addition, there are two round-trip operations between Kyoto and Kintetsu-Nara during the daytime (see the timetable below).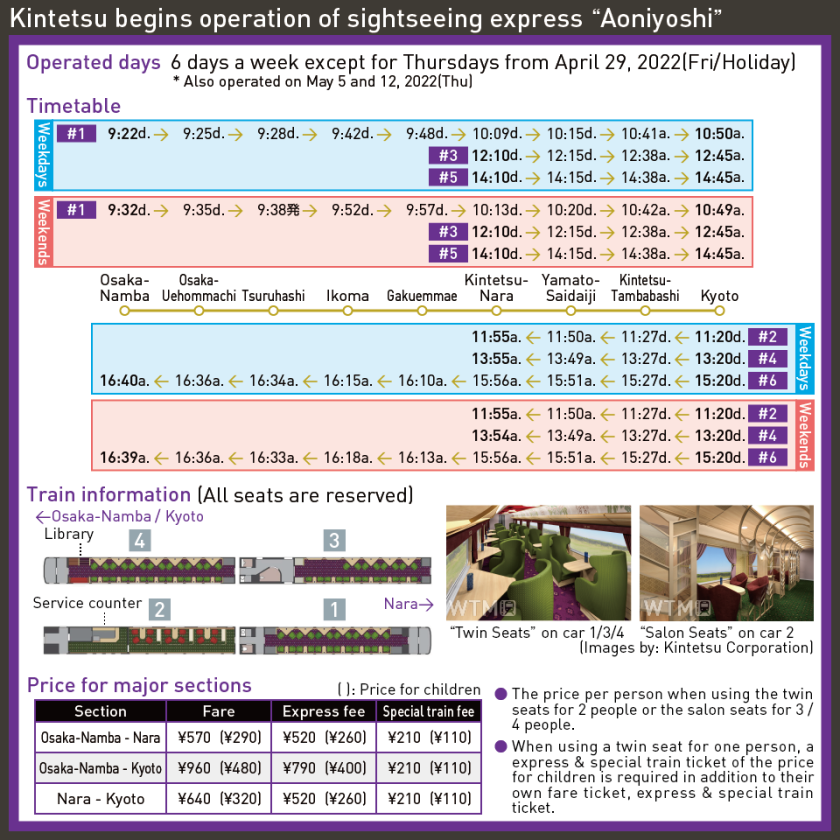 In addition to the fare ticket, a limited express ticket and a special train ticket (¥210 for adults / ¥110 for children) are required to board "Aoniyoshi". The twin seats are basically used by two people, but one person can use them by purchasing a limited express ticket / special train ticket for one child separately. Reserved seats will be on sale from 10:30 14 days before the riding date. Kintetsu said, the reserved seats on April 29, 2022 (Friday / holiday), which is the first day of operation, were sold out in just 20 minutes for all 6 trains.