JR Shikoku will open "Tsushimanomiya Station" on the Yosan Line, which is known as "JR Station with the shortest business days in Japan" for the first time in three years, and will make a total of 64 local trains stopping there during the period.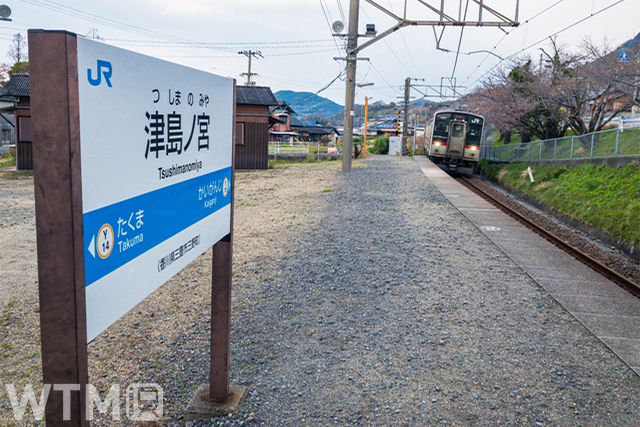 Not open for the latest 2 years due to COVID-19
Tsushima Shrine (Mitoyo City, Kagawa), which is enshrined on a small island 250 meters off the coast of the Seto Inland Sea, has been deeply worshiped as a guardian deity for the health and growth of children since the Edo period. Normally, people can only worship at the Yohaiden on the opposite bank, but the bridge is built only on August 4 and 5 every year when the summer festival is held, and everyone can walk to Tsushima isle where the main shrine is enshrined. Dedication fireworks are launched and traditional ceremonies are held only during the festival, and many worshipers such as families and couples will visit from inside and outside the prefecture.
Tsushimanomiya Station is opened only for two days in a year to coincide with this summer festival, and it is a extra station that is also called a "phantom station" because the period of getting on and off is too short. Due to the influence of COVID-19, the festival in 2020 and 2021 was canceled, and the opening of the station was postponed. Following the decision to hold the festival for the first time in three years in 2022, the station will also be temporarily open on August 4 (Thu) and 5 (Fri). 43 trains of the both directions will make a brief stop on Thursday, and 21 on Friday (see the figure below for details such as the timetable of the trains that temporarily stop).
Cute station name sign
A commemorative station name sign will be appeared on the back of the regular one on the platform of Tsushimanomiya station during the time when trains will stop there. The special specifications with the landscape illustrations of the station and Tsushima Shrine, and the image character of JR Shikoku "Smile Eki-chan♡Retcha-kun♡" is also drawn. It is likely to be a commemorative photo spot when visiting the station.
In addition, the platform of Tsushimanomiya Station has a wide gap between the train and the train, so the passengers can get help from the staff when getting on and off small children.