JR West and JR East set the opening date of the extension section of the Hokuriku Shinkansen between Kanazawa Station and Tsuruga Station on March 16, 2024 (Sat), and will reorganize the Shinkansen and limited express services such as operating section, train number and required time.
9 faster Shinkansen "KAGAYAKI" from/to Tsuruga
The construction work for this section is almost complete, which was started in June 2012 by the Japan Railway Construction, Transport and Technology Agency (JRTT), and a tracks connecting ceremony was held at Awaraonsen Station on May 27, 2023 (Sat). Audits and inspections of railway facilities are currently underway in collaboration with JR West Japan, the future operator to ensure that the Shinkansen can run safely.
JR East's inspection Shinkansen vehicle "East-i" will be enter the extension setcion for the first time on September 23 (Sat/Holiday), furthermore, JR West's commercial train "W7 series" on September 26 (Tue). Driving tests are conducted around one round trip a day, mainly at night, starting at a low speed and gradually increasing the speed. Additionally, a "W7 series train welcome event" will be held by Fukui City and the other local governments along the line on October 1 (Sun), when the W7 series runs during the day.
Along with the official decision of the opening date, the outline of the operation schedule was announced. There are 14 direct trains a day from Tsuruga Station to Tokyo Station, of which the express type "KAGAYAKI" makes 9 round trips, and the "HAKUTAKA", which has more stopping, makes a total of 5 round trips.
All KAGAYAKI and HAKUTAKA trains will stop at Fukui Station on the way. On the other hand, some trains will pass through Komatsu, Kagaonsen, Awaraonsen and Echizen-Takefu Stations, and the number of trains that connect to Tokyo stops at each station only seven times a day.
If the fastest train is used, the travel time between Tokyo and Fukui Stations will be shortened by 36 minutes than now to 2 hours and 51 minutes, and that between Tokyo and Tsuruga Stations will be 3 hours and 8 minutes saving 50 minutes. Eliminating the need to transfer to/from conventional lines at Kanazawa Station will greatly improve access from the Tokyo metropolitan area to the Kaga area in Ishikawa Prefecture and Fukui Prefecture.
(See the chart below for details such as number of trains in operation, patterns of stops, and connections with conventional limited express trains after the Hokuriku Shinkansen extension of Tsuruga Station.)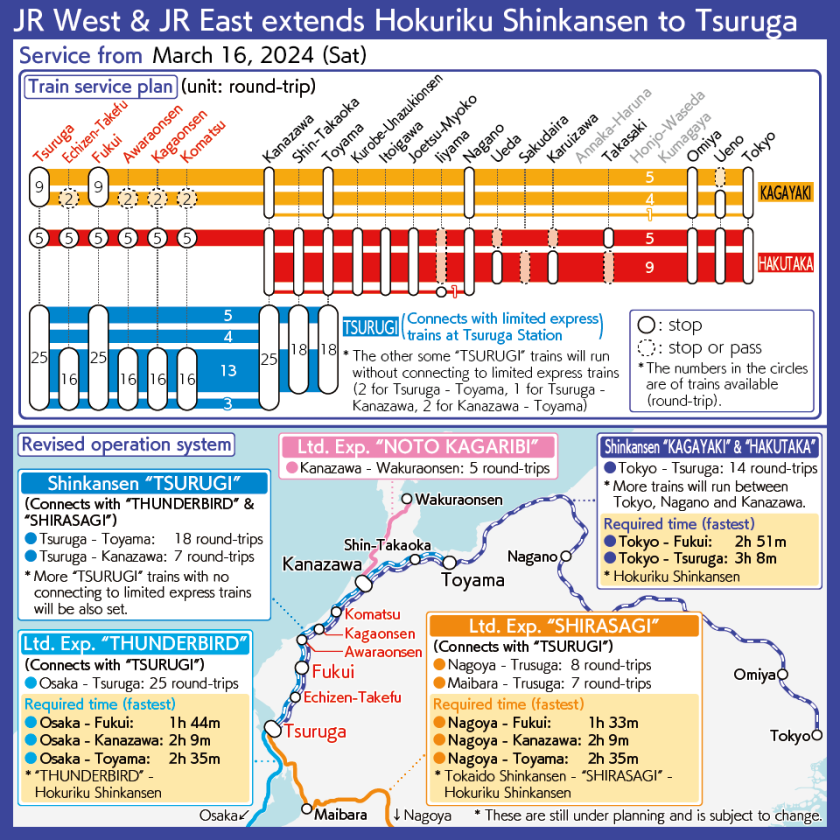 All "THUNDERBIRD" and "SHIRASAGI" will be shortened to Tsuruga
The operation between Tsuruga and Kanazawa on the Hokuriku Line will become a parallel conventional line, and the operating entity will be transferred from JR West to the third sector "IR Ishikawa Railway" and "Hapi-line Fukui." As a result, all express trains will disappear in this section. The junction between limited express trains and the Hokuriku Shinkansen for travel between Kansai/Chukyo and Hokuriku areas will move from Kanazawa Station to Tsuruga Station, marking a major shift to a transportation system based on transfers.
[Japan] JR East Pass (Tohoku Area) E-Ticket | Explore all the major tourist spots in northeastern Japan with easy access to transportation (Ad by KKday)
Between Tsuruga Station and Kanazawa/Toyama Station on the Shinkansen, "TSURUGI" trains will be set that does not run directly to Tokyo. Of these, 25 round trips connect at Tsuruga Station with the limited express "THUNDERBIRD" bound for Osaka Station and the limited express "SHIRASAGI" bound for Maibara and Nagoya Stations. Tsuruga Station, which serves as a branch point for various directions, will have a dedicated conventional limited express platform directly below the Shinkansen platform, allowing for smooth transfers over short travel distances.
Currently, you can travel between Osaka and Kanazawa Stations on the one THUNDERBIRD train, but once the extension opens, you will need to transfer to the Hokuriku Shinkansen TSURUGI at Tsuruga Station. Even so, the time required for the fastest trains is reduced by 22 minutes to 2 hours and 9 minutes. Similarly, if you transfer with the Tokaido Shinkansen, SHIRASAGI and Hokuriku Shinkansen, you can travel between Nagoya and Kanazawa Stations in 2 hours and 9 minutes, which is 16 minutes shorter than the current time.
Please note that one early morning and one late night SHIRASAGI trains that operate between Maibara and Kanazawa Stations will be abolished for the entire section, because there will not be able to connect to the Hokuriku Shinkansen. Also, the "THUNDERBIRD" connecting directly between Osaka and Wakuraonsen Stations is set to make one round trip per day now, but due to the separation of the system, it will be replaced by the limited express "NOTO KAGARIBI" running the section only between Kanazawa and Wakuraonsen Stations.
The limited express trains "OHAYO EXPRESS" and "OYASUMI EXPRESS" running between Tsuruga and Kanazawa Stations, and the limited express "DYNASTAR" between Fukui and Kanazawa Stations will be discontinued until March 15, 2024 (Fri), the day before the timetable revision.
[From Tokyo] Nikko Day Tour: Toshogu Shrine, Lake Chūzenji, Kegon Falls & Nikko Onsen | Chinese and Japanese tour guides (Ad by KKday)