The JR Group will revise prices and improve the effectiveness of railway passes such as the "JAPAN RAIL PASS" for foreign tourists visiting Japan from Sunday, October 1, 2023 (Sun).
"JAPAN RAIL PASS" prices increase of 88%
It was announced in April 2023 that the price of JAPAN RAIL PASS to be raised, which allows unlimited rides on 6 companies' JR lines nationwide, but the timing of the price revision has been decided. The official sales site "JAPAN RAIL PASS Reservation" will have a new price from 4:00 on October 1 (Sun), Japan standard time. Also, if you purchase an exchange order at a JR-designated offices or agencies outside Japan, the prices will switch based on the local time of the location.
In the case of the cheapest "Ordinary-type" with a valid period of 7 days, it used to be sold at 29,650 yen at overseas stores and 33,610 yen at the website, but after the revision, the price will be unified and both will be 50,000 yen (prices are for adults, same below). The prices for all ticket kinds including "Green-type" will have a significant price increase of approximately 88% on average compared to the current price, based on purchases outside Japan.
The JR Group is citing the service improvements it has made so far as the reason for the price revision, such as the expansion of excursion areas due to the extension of the Shinkansen and the introduction of online sales and reservation functions. Furthermore, they are establishing a new system that allows passengers to ride "NOZOMI" Shinkansen trains, which had not been permitted until now. In addition, they has partnered with major tourist facilities in Japan to offer discounts or other services for pass holders, and to appeal that the products are reasonably priced.
From October 1 (Sun), the date of the price revision, the special planned ticket that will go on sale is the ""[ONLY WITH JAPAN RAIL PASS] NOZOMI MIZUHO Ticket", which can be purchased at major JR stations and travel agencies nationwide all year round. If you have a valid pass on the boarding date, you can ride the Tokaido-Sanyo Shinkansen "NOZOMI" or the Sanyo-Kyushu Shinkansen "MIZUHO" by purchasing this ticket separately for the section you want to ride it.
The price of this ticket varies depending on the section, and for "between Tokyo/Shinagawa and Shin-Osaka", it costs 4,960 yen per person. There are three types: "Green car", "Ordinary car reserved seat" and "Ordinary car non-reserved seat", but the price is the same for each. The number of green cars and reserved seats available for this ticket is limited. Also, if your pass is "Ordinary-type", you cannot use a "Green car" ticket.
In addition, the JAPAN RAIL PASS was being sold on a trial basis at some counters in Japan, but it will end on September 30 (Sat), before the price revision, and will be unified to sales on the website. In addition, the handling of granting eligibility for using the pass to those who have Japanese nationality and have lived overseas for 10 years or more will be extended by 2 years. Until the end of December 2025, exchange orders can be purchased at designated offices and agents outside Japan.
(See the chart below for details such as new and old price comparison of rail passes such as "JAPAN RAIL PASS", the information of "NOZOMI MIZUHO Ticket".)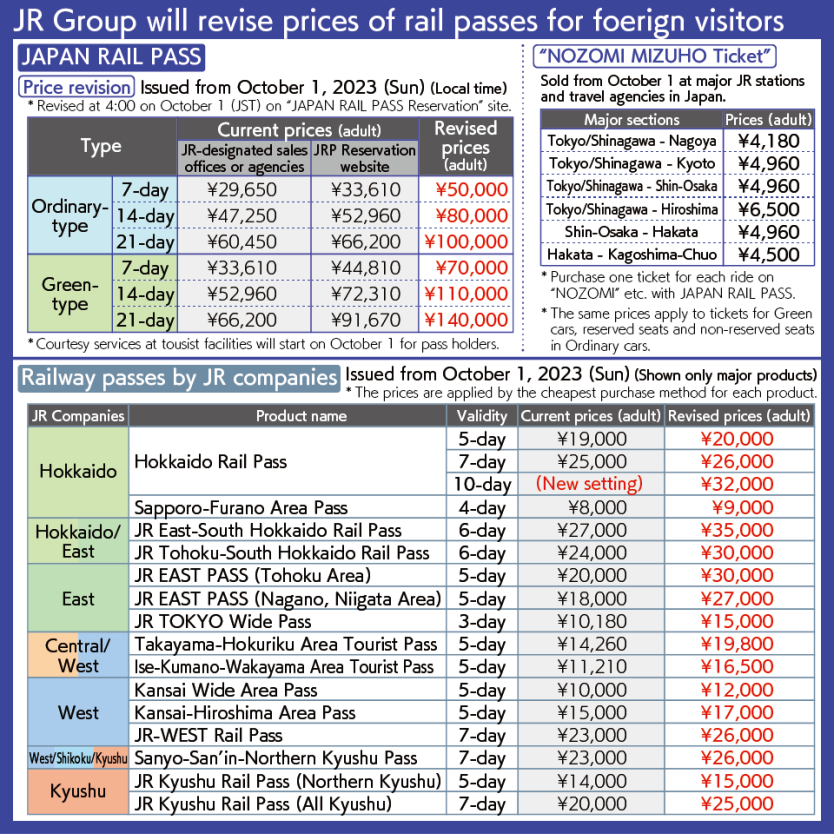 Rail passes for the Hokuriku area stay the same prices…why?
Each JR company sells various railway passes for foreigners in each area to meet the needs of overseas travelers. Prices for most of these products will also be revised on October 1 (Sun) in line with JAPAN RAIL PASS.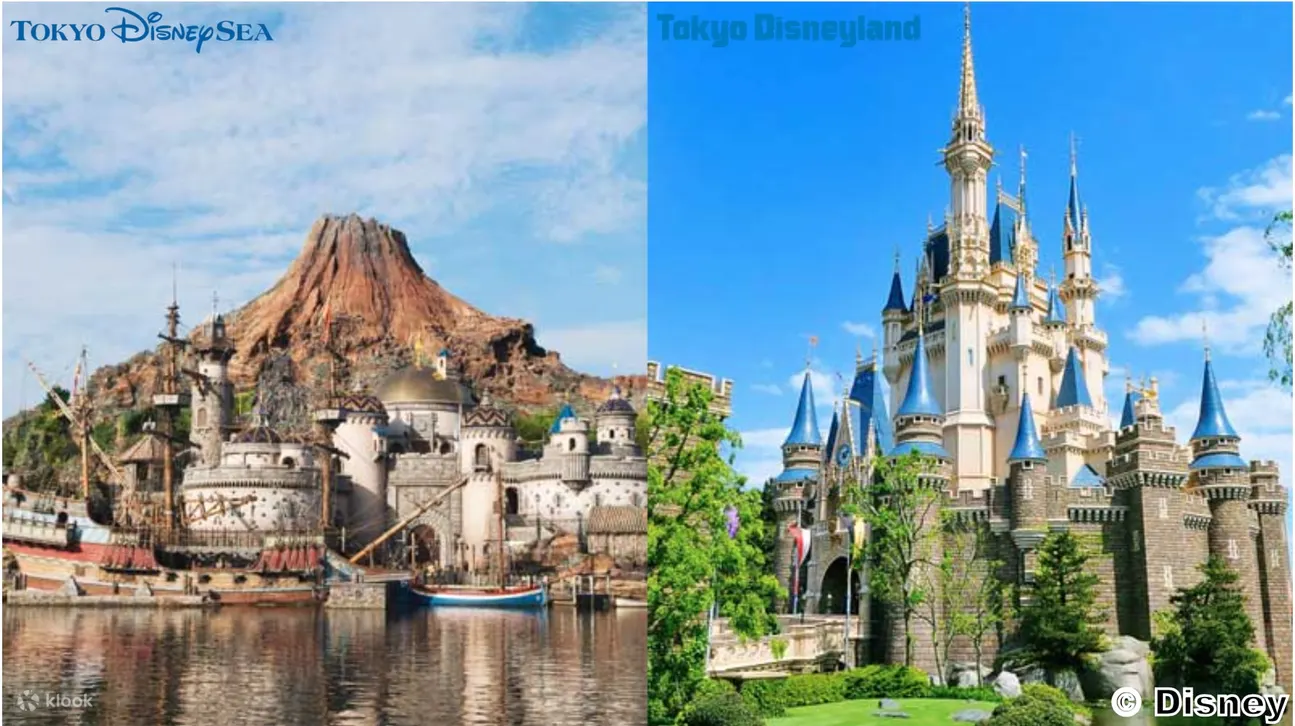 [Japan] Tokyo Disney Resort Park Ticket | Spend 1 day at Tokyo Disneyland or Tokyo Disneysea with pre-booked e-tickets to ensure convenient entry (Ad by Klook)
For example, "JR TOKYO Wide Pass", which allows unlimited rides on all JR East lines in the Tokyo metropolitan area for three days, is currently priced at 10,180 yen, but the new price will be 15,000 yen. The 7-day "JR Kyushu Rail Pass (All Kyushu)", which covers all JR Kyushu lines, will be increased from 20,000 yen to 25,000 yen. In addition, JR West will terminate selling most of its products for foreigners at station counters and promote a shift to online reservations.
There are also products whose convenience is improved at the same time as the price revision. Some products such as JR West's "Kansai Wide Area Pass" will abolish the limit on the number of times a reserved seat is issued, which has been limited to 6 times so far, and make it possible to use a reserved seat any number of times. In addition, for "Takayama-Hokuriku Area Tourist Pass" and "Ise-Kumano-Wakayama Area Tourist Pass" jointly sold by JR Central and JR West, the number of times a reserved seat can be issued will be expanded from 4 to 6 times.
In accordance with the price revisions of the non-reserved type "Sapporo-Noboribetsu Area Pass" and "Sapporo-Furano Area Pass", JR Hokkaido will revise the validity so that reserved seats in ordinary cars of limited express and rapid trains can be used. In addition, in response to the increasing demand for long-term stays by tourists visiting Japan, they will newly set up a 10-day "Hokkaido Rail Pass" that allows unlimited rides in Hokkaido, adding to the existing lineup of 5 and 7-day passes.
In addition, products such as "Hokuriku Arch Pass" and "Kansai-Hokuriku Area Pass" will not be revised this time, which are mainly for excursions in the Hokuriku area. JR East and JR West plan to review these products when the Hokuriku Shinkansen extends to Tsuruga Station in spring 2024.
[SHIBUYA SKY] Popular attraction in Shibuya, Tokyo! Standing at 229 meters, SHIBUYA SKY observatory overlooks Tokyo's beautiful cityscape at all angles without any obstruction. (Ad by KKday)